Website: http://en.bjcbp.com.cn/
The biomedical industry has spurred global economic development, and more and more countries around the world are attaching great importance to the innovative development of this industry. As one of the strategic emerging industries, in China three major industrial clusters of biomedical research have developed in the Yangtze River Delta, the Bohai Rim, and the Guangdong-Hong Kong-Macao Greater Bay Area. In addition, Hubei in central China and Chengdu and Chongqing in the West also show a good industrial foundation.
Excellent location, expanding to accelerate development
Daxing Biomedicine Industry Park (CBP) is located in the southwest of Daxing New City in Beijing. It is bordered by Wanhe River Forest Park in the north, Beijing Daxing International Airport in the south, Da-Guang Expressway in the east and the Yongding River Ecological Corridor in the west. The Yongxing River divides the park into its eastern and western sides: 2.3 square kilometers to the east, and 11.24 square kilometers to the west.
In 2020, after approval by the Municipal Party Committee and Municipal Government, the base will expand by 9.1 square kilometers. In addition, the Jingnan Logistics Base and Daxing Southeast Industrial Zone will be included in the policy area to form a 30 square kilometers group in an attempt to build an internationally influential "Chinese Medical Valley".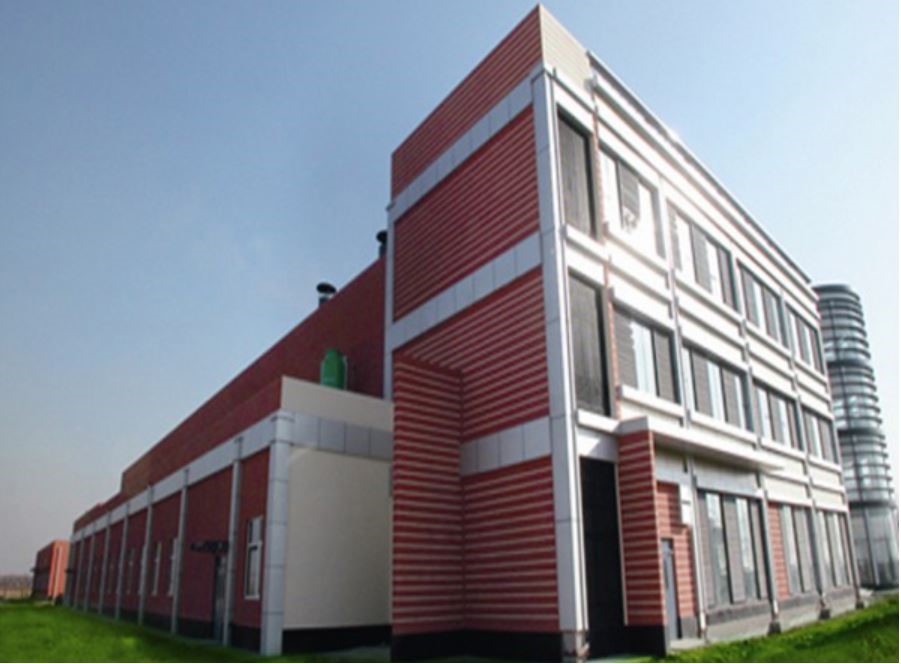 Rich innovation resources to help pharmaceutical companies grow
The Daxing Biomedicine Industry Base, with a planned area of 13.8 square kilometers, already has more than 3,000 enterprises settled in, with a total annual income of RMB 28 billion. A number of high-tech projects with world-leading technologies have garnered recognition from top level representatives within the China Food and Drug Control Institute, the Chinese Academy of Medical Sciences, the China Institute of Veterinary Drug Control, and the Institute of Chinese Materia Medica China Academy of Chinese Medical Sciences. The drug testing and R&D institutions have established a number of expert workstations, post-doctorate scientific research areas, professional service platforms, industry innovation organizations, and more in multiple aspects and dimensions, providing companies with convenient services and assisting them in their development.
Modern Chinese medicine, chemical treatments, biological preparations, and medical devices are expanding
At present, Daxing Biomedicine Industry Base has formed four sections in the biomedical field, namely modern Chinese medicine, innovative chemical treatments, biological preparations, and medical devices. Each main sector has a company leading development, forming a complete industrial chain structure, and providing a good environment for projects and enterprises to land at CBP.

Modern Chinese medicine
China Traditional Chinese Medicine Holdings (China TCM) is the core platform established by Sinopharm Group for the traditional Chinese medicine segment. The Company has a complete industrial chain and integrates research, manufacturing, and sales. It has more than 1300 patent medicine regulations (of which more than 350 regulations are included in the National Essential Medicine List 2018), over 700 varieties of TCM formula granules and over 400 varieties of classic compound granules (for export only). The products have covered several major fields including Chinese patent medicine, herbal pieces, formula granules, and chemical medicine.
Tong Ren Tang will construct six projects including Tongrentang Health, Tongrentang Technology, Tongrentang Co., Ltd., and Tongrentang Pharmaceutical. According to GMP/GSP standards, it will create modern Chinese medicine, a functional health food production base, medicinal material storage center, drug distribution center, and quality inspection center. It has developed 300 new products to put on the market, and has investment is of RMB 5.1 billion. It has 730 acres of land and it is expected to achieve sales revenue of RMB 15 billion and profits and taxes of RMB 1.5 billion.
Beijing Yiling Pharmaceutical Industry Co., Ltd. produces Lianhua Qingwen, Shensongyangxin capsules and other patented new Chinese medicines and health care products. It is the first batch of key enterprises of CBP's "Ten Hundred Thousand" Project, the first batch of Beijing G20 companies, and the Beijing Enterprise Technology Center. It has won two second prizes for National Science and Technology Progress and one National Patent Invention Excellence Award. More than 10 projects have formed core technologies of innovative Chinese medicine research and development teams and industrialization enterprises guided by disease theory.
Innovative medicine
Beijing Union Pharmaceutical Factory is a state-owned enterprise under the Institute of Materia Medica of the Chinese Academy of Medical Sciences. It has exclusive rights to produce besano in China, the first listed first-class chemical new drug with international independent intellectual property rights in China. It won second prize for the National Science and Technology Progress Award and was selected as one of the top ten scientific and technological achievements by the Chinese Academy of Medical Sciences. Some of its products are now registered and listed in Russia and other countries.
Beijing Fresenius Kabi Pharmaceutical Co., Ltd. is committed to introducing the Fresenius Kabi Group's high-quality medicines, advanced technology, and treatment concepts into China. At present, the main product series produced and sold in China include plasma substitutes, drugs to delay renal failure, intravenous anesthetics, and amino acid infusions. In addition to domestic Chinese production and sales, some of its products are also exported to many countries around the world.
Beijing Sihuan Kebao Pharmaceutical Co., Ltd., formerly known as Beijing Sihuan Biological and Biochemical Products Factory, was established in 1992. In 1998, it implemented national policies and completed corporate restructuring, R&D, manufacturing, and sales, and cultivated many competitive products.
Biological preparations
Beijing Minhai Biological Technology independently developed the "Acellular DTP b Haemophilus influenzae combined vaccine", which is the first quadruple vaccine in China. It has undertaken major scientific and technological projects such as "863" and has established good technical relations with the World Health Organization (WHO) and other foreign institutions. It is a high-tech enterprise and one of the first batch of G20 enterprises in Beijing. It is the "Beijing Key Laboratory of Integrated Vaccine Technology Research", "Beijing New Joint Vaccine Engineering Technology Research Center", "Beijing Engineering Technology Research Center", "Academician Workstation" and a "postdoctoral workstation".
Yisheng Biopharma has the world's first cellular immune regulation activation technology platform with independent intellectual property rights. It uses this platform to carry out its own projects such as rabies, hepatitis B, influenza, Ebola virus, varicella/shingles vaccine, and others. It also carries out new vaccine projects such as the Ebola vaccine in cooperation with the American Institute of Infectious Diseases, the tuberculosis vaccine in cooperation with the Global Tuberculosis Vaccine Foundation, and the AIDS vaccine in cooperation with the Scripps Institute in the United States and the China CDC Center for AIDS.
Jiuzhitang Maker is a subsidiary of Jiuzhitang, a century-old pharmaceutical company with a registered capital of RMB 200 million. It is mainly engaged in the research and development and production and sales of stem cells and regenerative medicine products. It introduced the stem cell preparation platform, Stemedica, in the United States, built an allogeneic stem cell production platform that complies with the cGMP standards of the United States and the European Union, and is committed to developing stem cell drugs for the treatment of complex syndromes of the heart, nervous system, endocrine and immune systems.
Medical devices
Sinovation originated at Tsinghua Technology. It is the crystallization of the Sinovation R&D team after more than ten years of research. It is mainly used to replace stereotactic frame technology in neurosurgery. Sinovation has deep technical accumulation and clinical experience in medical image processing, medical robots, and medical electrodes.
Beijing Advanced Medical Technologies makes 3D precision printing absorbable vascular stent technology and now obtained a Chinese patent. Compared with the laser cutting method adopted by major international multinational companies, this original 3D precision vascular stent manufacturing technology has the advantages of fast manufacturing speed, almost no material waste, energy saving, and environmental protection. This technology is a breakthrough for China in the field of international additive manufacturing technology.
Beijing Huamaitaike Medical Devices was established in 2011 and independently developed the Tianzhuo™ abdominal aorta stent graft system. As an innovative medical device company, the company was awarded a key research project in the National Twelfth Five-Year Science and Technology Support Plan in 2012, a research project for the industrialization of major scientific and technological achievements in 2014, and a special approval for innovative medical devices by the State Food and Drug Administration in 2015. It has received commendation from sub-government departments.
Preferential policies help company development
The pharmaceutical base has the advantages of two platforms and enjoys dual preferential policies for national high-tech industrial parks and national economic and technological development zones. The key policies are:
(1)Zhongguancun 1+4 Policy
Fully support the construction of Beijing National Science and Technology Innovation Center and create an "upgraded version" of Zhongguancun to issue a "1+4" funding policy support system. 1 refers to "Several Measures to Accurately Support the Construction of Major Projects and Innovation Platforms". 4 refers to "Administrative Measures for Supporting Funds for Promoting Deep Integration of Technology and Finance", "Administrative Measures for Supporting Funds for Improving Innovation Capability and Optimizing Innovation Environment", "Management Measures for Supporting Funds for Optimizing Entrepreneurship Services and Promoting Talent Development", and "Management Measures for Supporting Funds for Optimizing Entrepreneurship Services and Promoting Talent Development".
(2)"1+N" Industrial Policy
The "1+N" industrial policy in includes 10 policies and more than 40 award clauses. 1 refers to "Guiding Opinions on Promoting Industrial Development in Daxing". "N" refers to special supporting policies for various industries. Among them, the "Interim Measures for Promoting the Development of the Pharmaceutical and Health Industry in Daxing District" has five chapters and 21 articles. The policy support targets are pharmaceuticals, medical device, and medical service companies, and they are summarized as 4+3+4. Contains four support directions, three support methods, and four key contents. Support will be given from special fund matching rewards, loan discounts, rent subsidies, transformation of innovative achievements, clinical research, and entrepreneurial services.
(3)High-level Talent Service Measures
In order to cultivate and gather urgently needed talents of a high quality and build a talent development platform with high standards, Daxing has issued high-level talent service measures to support the development of talents in ten aspects. They are contact expert services, housing services, medical health services, children's school services, government affairs coordination services, financial services, study and inspection services, work and residence services, public cultural services, and other services.
Summary
Coordinating the utilization of the brand resource advantages and the industrial carrying advantages of the pharmaceutical base, focusing on "implementing implementation, establishing mechanisms, and strengthening supervision", highlighting innovation, transformation and upgrading, function expansion, and integrated development to gradually form biomedical clusters. The integrated development of a new healthcare city has become an internationally renowned biomedical industry innovation cluster and transformed into a leading domestic "Chinese Medicine Valley".
This article was originally published on the website of our partner, MyBioGate.